PF 15.7 Release (10/21/21)
Photo Finale Platform (Web & Kiosk) Release
Please Note: There is nothing you need to do to get this release, all the changes are automatically applied on your kiosk, website, and myLab.
v15.7 features & fixes:
PF Web & PF Kiosk
[NEW FEATURE]

– Stock Collections. Dealers can now add sets of photos that will show alongside the user's collections, making it the perfect way to offer up images for anyone to use. They are always available and located where users will see them. Stock Collections could be used to showcase great shots of your local area, distribute event photos, offer static signage or custom printables, or even a way to advertise a promotion.
Stock Collection Tips & Info:

Use a logged-in account to store your Stock Collections because any guest-mode photos are deleted in a few months.
Consider creating a special user account to store all your Stock Collections, so you can find and edit them easily.
The collection name should be descriptive, and always enter a description so your users know what they are looking at and know that they can freely use the photos.
If you set a password on the original collection, the user accessing it will be prompted to enter it.
The download feature is disabled for all Stock Collections the user sees in their account.
Ensure you have appropriate usage rights to the photos you upload.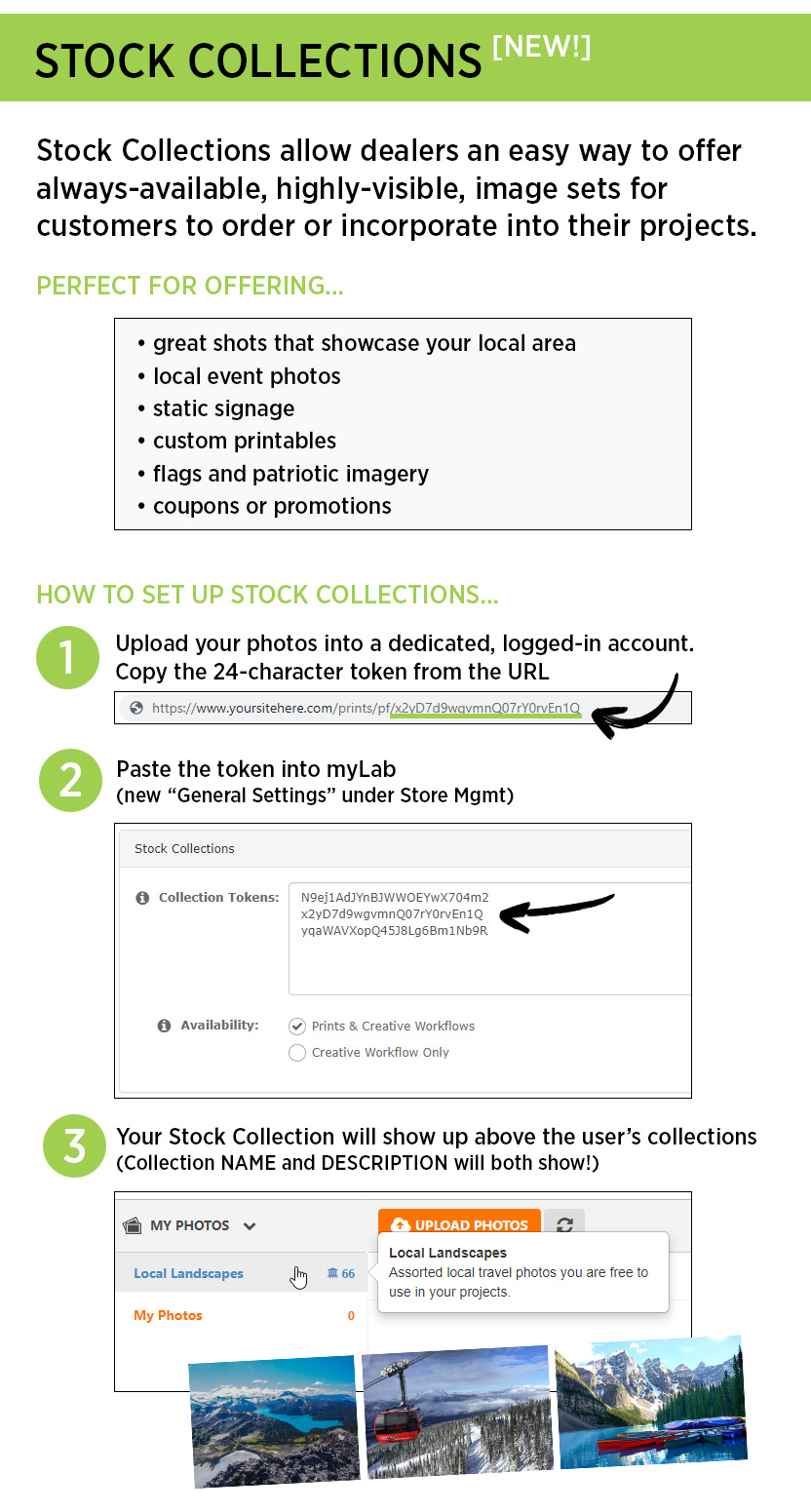 [NEW FEATURE]

– Support added to allow for Express Fulfillment on PF Kiosk. Enabling a second fulfillment on PFK provides customers an up-front choice between two service options, and allows dealers to specify a separate set (or subset) of products, pricing, and order routing options. Typically used to offer while-you-wait express printing in addition to traditional full-catalog service. (NOTE: This will require a new Kiosk version (PFK v1.3+) and Print 50 (9.7+), which is in beta now and will release soon.)

[NEW]

– Styling tweaks throughout the site to modernize and standardize some controls.
[FIXED] – Rendered Product Assets attached to an order are now properly generated and available in myLab, Print 50, fDaemon and via the API.
[FIXED] – The "Your project has no photos" warning when adding a photo-less project to the cart will no longer be shown when the product uses a layout that is intentionally all-text.
[FIXED] – The payment option "Pay in store at pickup" is now just "Pay in store" so that it can be more applicable for PFK orders where the dealer wishes to have the customer pay in-store as soon as the order is placed.
[FIXED] – The Autofill dialog header and Yes/No buttons have been localized.
[FIXED] – Added improved error handling retry of failed rendered product assets.
[FIXED] – Updated Danish, Hungarian and Serbian translations.
PF 15.6 Release (08/23/21)
Photo Finale Platform (Web & Kiosk) Release
Please Note: There is nothing you need to do to get this release, all the changes are automatically applied on your kiosk, website, and myLab. We did release PF Kiosk version 1.2.42, which does require an installer to be run on each of your kiosk computers, on 17 Aug 2021. If your version is older, please head over to myLab to download and install.
Main Feature: Product Assets
Product Assets allow additional content to be attached and included with an order whenever a product is purchased. Currently this can include either static content or product renderings for the customer or your production staff.
Product Asset Examples:

An instruction sheet for the consumer to accompany an installable product
An order form and mailing label to include in a film-scanning-box order
A design-time rendering of a multiple-image product to assist the production team
A printed checklist for the production team, for a multi-step product
Future expansions of the Product Assets functionality envision emailing or texting content to customers, being able to generate one-time-use voucher codes on the fly, and the ability to attach assets at the order-level using flexible rules (such as including a printed welcome letter for first-time customers).
The Product Assets feature encompasses changes across our platform, including PF Web, API, myLab, RenderFarm, Print 50, and fDaemon.
In myLab, assets (JPG or PDF) are uploaded and managed on a new Dealer Assets page in Store Management. In addition to a dealer's own assets, an operator will also see any assets that have been shared by their suppliers or global assets supplied from Photo Finale.
On the Product Details page in myLab, operators set up one or more Product Assets for a product. At launch we've included support for two types of assets: static assets ("Dealers Assets") and product renderings. A variety of configuration options are available for each type.
During order processing, any products with Product Assets configured will have those assets generated and stored at a secure public URL, ready for fulfillment. Our recommended order management software, Print 50, supports printing order assets to the invoice printer as well as downloading or exporting them. Our online customer service portal, myLab, will display order assets and allow operators to download them in their browser. Our fulfillment-lab download tool, fDaemon, also now supports automatic downloading of all order assets. Finally, API partners can access assets through new elements in the Order XML response, with links provided to download them directly. Order assets remain available for download for 60 days following an order.
Additional v15.6 features & fixes:
PF Web & PF Kiosk
[NEW]

– Added a new /upload URL route (just add "/upload" to the end of your PF website URL), which allows dealers to link users directly into the upload process of the prints workflow, providing a great landing page to drop a customer directly into the ordering workflow. For guest customers the photos will be uploaded into their guest collection. For logged-in members, the uploaded photos will be placed into a new collection labeled with the current date.

[NEW]

– Added 8×12 and 12×8 cropping guide sizes to Img.ly.
[FIXED] – Resolved a long-standing bug that affected certain double-sided creative items and caused the back page to be rendered blank. Fixed on newly-created projects going forward.
[FIXED] – One-time-use vouchers are no longer orphaned when a customer attaches a voucher to their basket and then a