All Photo Finale custom photo websites offer your customers an easy and secure way to store photos and to order prints and personalized products.  We offer three site designs to choose from: PF Standard, PF Managed and the wide-open, PF Enterprise.  Each one has a catalog of hundreds of products and thousands of template designs and includes all the tools, settings and flexibility you need to run a full e-commerce printing service.  All PF sites offer upload and print ordering across all browsers and devices, automatically display a responsive interface on mobile and tablets, are PCI compliant and boast a 99.9% uptime.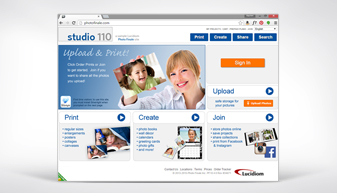 Photo Finale Standard
The PF Standard landing page features two logo spots, five custom graphics spots and a simple header featuring Print, Create, Share and Search functions. PF Standard is the perfect site for retailers who need minimal customization and want to get started with an online ordering site quickly.  As with all PF site levels, dealers can customize the site-generated email communications.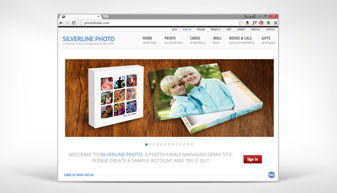 Photo Finale Managed
PFM sites feature a clean, modern theme that our team will customize top to bottom with your logo, store details, product mix and highlight colors. This site theme features shopping pages that can be customized with your product info so consumers can learn more about the products before ordering.  A PFM site function as an ordering site linked to from your main website or as a full, stand-alone site, complete with custom domain for easy marketing.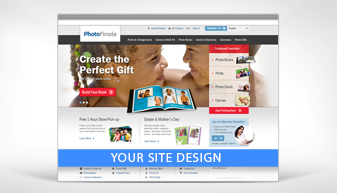 Photo Finale Enterprise
PF Enterprise is a full content management system.  Dealers who go this route have full design control and access to each piece of the their front end shopping pages, header, footer and all behind-the-scenes code.  You can build in tracking, affiliate programs, newsletter signups, popups, banners and more…the sky's the limit! If you like the PFM theme but want full control over the pages, we will give you that site code to start from.  It's not required, but most dealers who choose PFE opt to use their own custom domain to give the site the maximum custom look and feel.
Ready to give your website a refresh?