Photo Finale Web 13.8.2
[FIXED] Prevent "The id is invalid or not provided (101)" error on checkout for users with bad data stuck in their local browser cookies.
[NEW] Added cache control header ("max-age") for Umbraco custom content, to improve caching on the CDN.
[NEW] Updated to newer version of pre-rendering middleware to handle traffic from an expanded list of indexing bots.
[FIXED] After finishing a creative project and adding it to the cart, starting another creative project via a direct product link (e.g. Umbraco page or mega-menu) will no longer display a "Change Style".
PF v13.8 (8/12/19) & 13.8.1 (8/20/19)
Photo Finale Web 13.8
[NEW]

CDN Coverage for Landing-Page HTML.  In PF 13.0 we introduced a secure, global Content Delivery Network (CDN) for all static content, including Javascript, CSS, and media files.  In v13.8 we have extended this to include the HTML itself for all Umbraco landing pages, leading to even faster initial load times and transitions between pages as consumers' browsers and devices can take advantage of lower latency and higher transfer speeds by connecting to one of the 130 edge locations worldwide.

[NEW]

Dynamic Rendering for SEO.  Search engine and social network crawlers aren't always capable of correctly indexing complex, Javascript-powered, Single Page Applications (SPAs) like Photo Finale Web.  Google announced at last year's I/O conference a change to their search policies to allow and encourage developers to implement a new method to deliver search-friendly Javascript websites, known as Dynamic Rendering.  As requests come into Photo Finale Web, we now examine whether or not it's coming from a search bot and if so, immediately deliver a cached, prerendered, static version of the HTML back to the crawler.  This results in a site that is both engaging for users but also performs well in search indexing.  Our Dynamic Rendering system is integrated with our Umbraco CMS and myLab store management, so that any changes which affects a site's marketing landing pages (e.g. product, price or promotion updates) are automatically queued & re-cached.

[NEW]

SEO-Friendly Product URLs.  The links to products embedded throughout the Umbraco landing pages of a dealer site now utilize SEO-enhanced definitions to provide more information and context for search-engine bots to discover, rather than rely merely on a non-descript ID.  The category breadcrumbs and product name are now included.
For example:
Previously: /shop?pid=940299
New in v13.8: /shop/wall-decor/aluminum-metal-panels/landscape/14×11-aluminum-metal-panel?pid=940299
[NEW]

Sitemap Optimization.  Revamped the platform's automatic sitemap XML generator to improve search indexing and optimization:

Added and nodes to entries to help indexing bots assess the relative structure and importance of the different branches of the site and encourage frequent indexing.
Migrated to a new component to ensure the full catalog of Umbraco landing pages for a site is included in the generated sitemap.
Removed outdated and low-index-value platform pages from the sitemap entries.

[NEW]

Social Media Upload Shortcuts.  Easier access to social media photos with direct shortcut buttons on the Upload page.  Customers who haven't discovered that social media photos can be accessed by clicking on the Photo Sources dropdown, will now have access to these features directly from the Upload page.  Note: availability of social media photos varies by dealer domain.
Existing: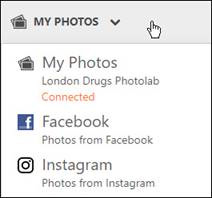 New: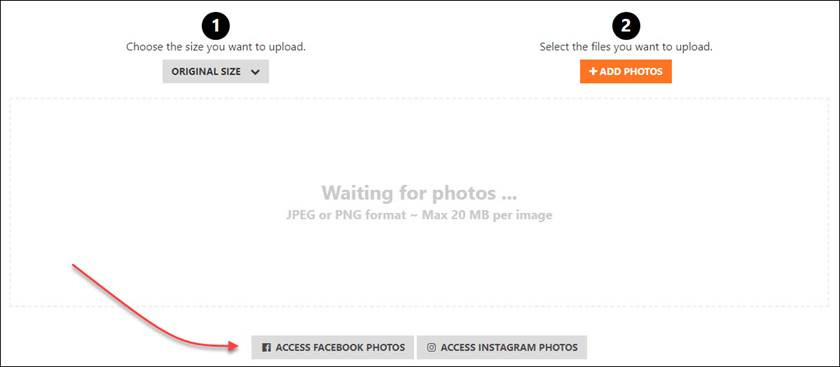 [NEW]

A new "Order Refund" email is now automatically sent to a customer whenever a credit card payment is refunded in myLab or via the API.

[NEW]

Orders without any cropped photos are now processed faster (reducing the time between the customer submitting their order and receiving the order confirmation email) by sending them through a separate processing pipeline from orders that do require cropping services.

[NEW]

The app's client-side Javascript library version, revision & build date are now shown on the /platform page to help with troubleshooting.
[FIXED] Corrected the tax calculation for $0 orders with a shipping charge when the customer has no default value set in their ship-to-country field.
[FIXED] Corrected the tax calculation for service fees and rush-order fees which were only being taxed if they occurred in a jurisdiction with tax on shipping charges.
[FIXED] The Review & Crop page was mistakenly displaying the fit-to-paper option for sites that had it disabled.

[NEW]

New core service to monitor the available hard drive space on each server and inhibit further application logging if we pass a minimum threshold.
v13.8.1
[FIXED] Resolved bug affecting anonymous customers who used the "Continue shopping" option after placing an order and encountered error messages submitting their 2nd order.