PF & myLab v13.0 (8/16/18)
Platform Performance Optimizations
Achieved across-the-board A's from the WebPageTest.org performance testing services, due to a number of platform advances.

Platform advances include:
CDN.  All static site content, including our application Javascript & CSS, as well as dealer's custom Umbraco media content, is now served to your customers through a secure, global Content Delivery Network (CDN) which delivers lower latency and higher transfer speeds by connecting them to one of more than 130 geo-proximate edge locations worldwide.  CDN bandwidth charges are included in your 2018-2019 billing agreement.
Dedicated Static Asset Servers.  Our CDN provider pulls all application data and Umbraco media content from a new, cookie-less asset server cluster with far-future expiration values allowing for maximum local caching in users' browsers.  On repeat visits to your site for up to a year, customers will not have to reload the vast majority of the site content.
HTTP 2.0.  Full HTTP/2 support across our Web and API fleets.  This major revision to the HTTP network protocol focuses on improved performance via multiplexing, header compression, server push, and resource prioritization and is supported by all of the latest browsers.
Server Resources.  Significant reduction in first-page load time and server memory requirements for fresh dealers.
Mobile Order Notifications
Customers can now opt-in to receive a mobile notification via SMS when their order is ready for in-store pickup or has been shipped.

The SMS is triggered by marking an order "Complete" in Print 50, Lab 50, myLab, fDaemon or via our API.  Within a few minutes the customer will receive a test message that includes your dealer name, their order number and store pickup location (unless it's a shipped order).
If your lab auto-completes orders, the SMS may go out prior to the customers order actually being ready. For this reason, we recommend turning off auto-complete. (Pro Tip: Use the Fulfillment tab of myLab to easily mark orders as completed.)
This SMS feature is part of this PF 13 launch for online orders and will be available for orders placed in the iOS App later this fall.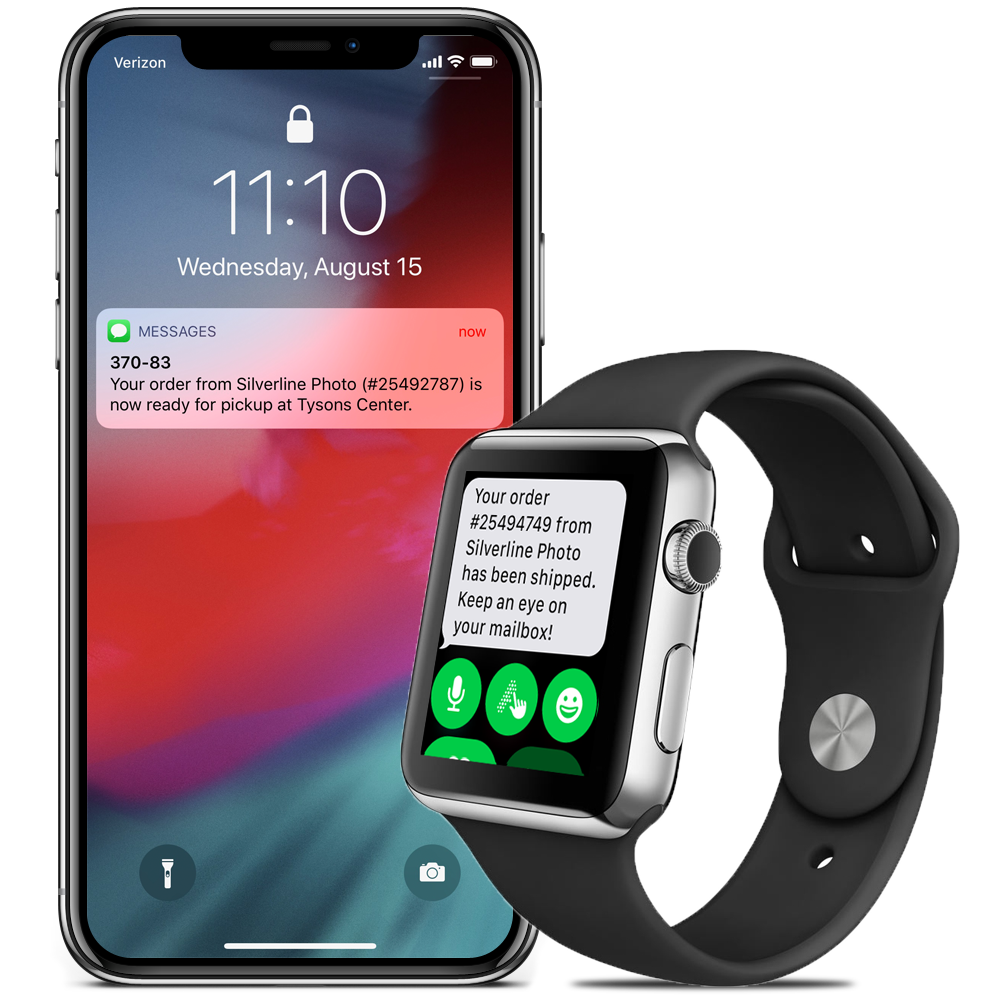 Umbraco CMS Content Macros
Umbraco is the content management system your PFSR or PFE site uses for custom shopping pages, header and footer. We have added functionality to connect myLab with these pages, which allows for control of much of the website content from myLab.
The new macro engine for Umbraco content has a full set of programmable macros that provide the ability to include dynamic dealer, store location and product catalog data directly in Umbraco landing pages.
Pages with macros always show the latest information and are automatically refreshed as store data changes (e.g. prices changed, new products added, etc.)
Through "macroitized" pages, dealers can easily make changes to their Umbraco content through the simple Store Management tools in myLab without ever having to edit HTML directly or submit a change request through our account team.
Photo Finale Enterprise customers interested in exploring how the macro engine can help them build a more engaging and dynamic site should contact our support team for further information.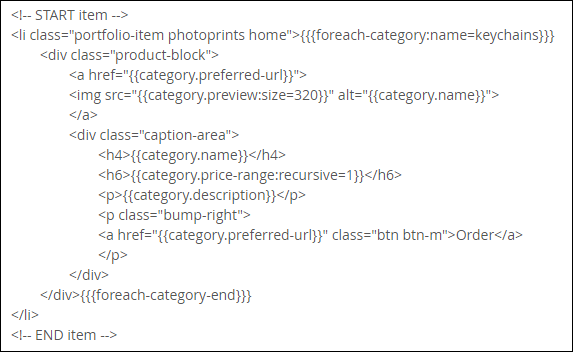 Wholesale Pricing
The wholesale costs incurred for outsourced products in an order are now calculated and displayed on the myLab Order Details page, via the API, and through most applicable email-subscription and on-demand myLab reports.
Fulfillment labs add their wholesale pricing to their catalogs in myLab, either on the Product Pricing page in a new column next to their MSRP, or in a new section on the Product Details page.  The Product Pricing page will automatically display the expected margin.
Product Pricing page:

Product Details page:

Dealers subscribing to a supplier-fulfilled product will see the product in green, and the wholesale cost and margin will be displayed (but not editable).

Wholesale pricing support has been added to these reports for launch:
Online – Sales – Detailed
Online – Fulfillment – Catalog Subscriber Line Item Detail
Online – Products – All Product Catalogs
Daily Online Sales Summary
Daily Supplier Detail
Wholesale pricing support will be added to these reports in the coming weeks after launch:
Online – Sales – Product Totals
Online – Sales – Subaccounts – Details
Online – Sales – Subaccounts – Monthly Totals
Wholesale pricing is available now for all Prestige Outlab catalogs, and will be available shortly from many Photo Finale Marketplace partners.
Product Builder Enhancements
Ability to view a larger preview image by hovering over a thumbnail in the photo library panel.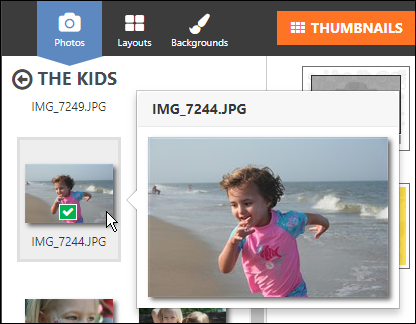 Option to hide thumbnails from the photo library panel once they have been placed in a project.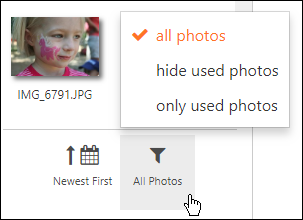 Indication in the photo library panel of any photos which have been used more than once in a project.

Larger Upload Sizes
We've re-balanced our upload sizes to account for larger device cameras and improved availability of broadband and LTE coverage, while still offering meaningful time and data-plan bandwidth savings for customers who do not need full-resolution source images.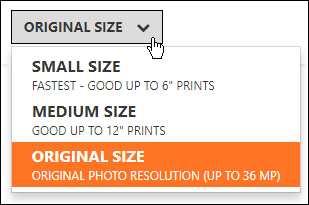 Express Upload, Fast Upload and Large Upload have been replaced by Small Size, Medium Size and Original Size.
The Small Size is 80% more pixel data than the previous Express option.
The Medium Size is 115% more pixels than the previous Fast option.
More Enhancements
Added support for customer entry of a store loyalty/rewards card on the Checkout Promotions page.  Loyalty card numbers can be retrieved via our API only.
The Payment page in the Checkout workflow will now automatically select the first payment option for the customer by default.
Added Google Analytics tracking of terms used on the /search page.
Improved API retry success by utilizing a different API domain for each retry request, thereby ensuring a new connection is established and increasing the likelihood of it being served by a different server in our API cluster.
Bug Fixes & Tweaks
The site will no longer use the customer's selected folio (design) style name as the default description for a new creative project.  As content is re-purposed and shared between many products, the original style names are often not applicable to the newer products and cause confusion when set as a project description. The field is now blank, allowing customers to optionally fill in a description of their project.
The Order Items and Order Coupons JavaScript objects are once again properly initialized on the Order Confirmation page, for use in 3rd-party integration scripts that require detailed cart data, such as affiliate marketing and others.
Fixed support in the Cart and Checkout pages for the advanced dealer property ("hide_tax_when_zero") which inhibits the "Tax" line from appearing in the order total display for dealers who desire that.  (Please email support@photofinale.com to request.)
Fixed the erroneous message shown to customers when they entered an incorrect username or password on the login page.
The panels recommending users to Sign-In or Join the site are no longer shown on the Order Tracking and My Projects pages when the site does not offer user memberships.
The browser window title (HTML <title> object) are now properly set for PFM/PFSR/PFE sites to the value specified in Umbraco.
If membership sign-ups are disabled on a site, attempting to visit the /join page will redirect the user to the /welcome page instead.
Fixed bug in which the Upload button was still shown in the Photo Library panel of the Creative Product Builder for customers using PF@Kiosk when it was configured to hide the upload option.
Importing a supplier product catalog in myLab will now correctly copy all product personalization attributes.
The "Download DPI" setting has been removed from the Product Details screen in myLab since it was no longer used by the platform.
Fixed a small display issue on the shopping page breadcrumbs.
myLab Updates
Quicker Customer Assistance
New "Log in as Customer" button for quick, one-click access for customer service.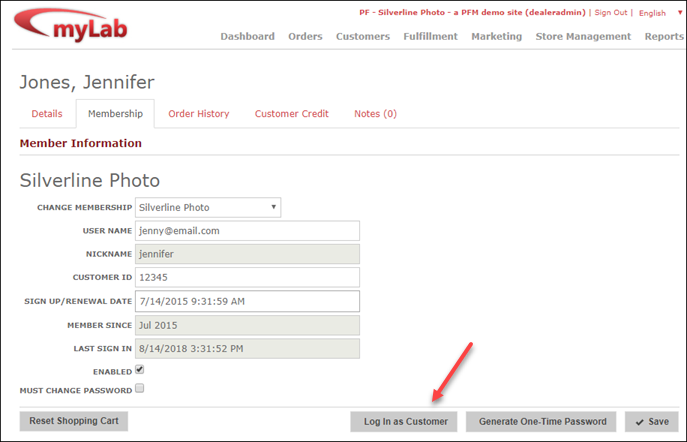 Upgrades to the Product Pricing page
Ability to filter products by name, breadcrumb, Product ID and Database ID, and local vs. outsourced fulfillment, making it much easier when you want to find and update a specific product or group of products.

Support for displaying and editing inactive products.  This is particular useful when adding a new category of products.  You can begin with the category disabled, so that it is not available to customers on your site, make your pricing and other product updates, and then enable the category for sale.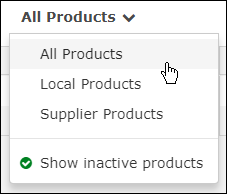 Products fulfilled by an outlab supplier are now displayed in green.
Support for viewing wholesale costs on products, including a real-time margin calculation updated as the product price is edited.

Support for suppliers to set wholesale pricing on the products they fulfill for others.
New quick-access tooltips which provide an overview of the product details in a popover tooltip — width, height, breadcrumb, supplier, Fulfillment ID, UPC, price tiers, page count, max/min pages, render mode & shipping group — when you hover over a product or category name in the table.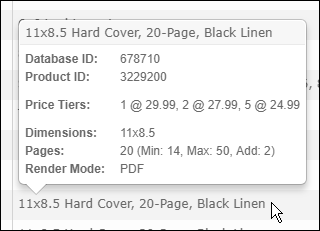 Ability to directly input additional-page pricing for photo book products.
Support for Supplier Orders
On their myLab dashboard, fulfillment suppliers can now search for orders placed on subscribing dealers' sites that include products fulfilled by the supplier.  Order search works on both the Orders and Fulfillment pages.
Reports: New & Updated
Added new automated weekly report subscription, "Mobile & Web: New Customers."  Configurable in myLab > Store Management > Report Subscriptions.  This new report is delivered every Sunday at 5:30am ET, and includes customer information for all FIRST-TIME members and guests that placed orders in the previous week.  This is a great report to use to import new customers into your 3rd-party email marketing service.
Added new automated daily report subscription, "Mobile & Web: Supplier Order Detail".  Configurable in myLab > Store Management > Report Subscriptions.  This new report shows the production status of every order sent to a 3rd-party fulfiller the previous day.  Delivery daily at 5:45am ET.
Resurrected and rebuilt from scratch two popular, on-demand reports which had been removed last year due to performance and resource concerns: "Online – Fulfillment – Catalog Subscriber Line Item Detail" and "Online – Fulfillment – Catalog Subscriber Line Item Detail Grouped by Product".
Fixed missing "Upload" button in the Creative Product Builder
Fixed accessing the PicMonkey photo editor
Fixed erroneous payment page validation errors for no-fee orders
Fixed disabled "Edit Photo" button in Creative Product Builder
PF Web & API
Fixed an issue that prevented delivery of SMS messages to some international carriers, such as Rogers in Canada and SingTel and StarHub in Singapore
Improved the mobile notification (SMS) user interface on the Order Confirmation page
Fixed an issue with uploading photos from the kiosk to PF@Kiosk
Lab 50 Webservices
Fixed an issue with orders completed in Lab 50 / Print 50 not triggering SMS notifications
myLab
Enhanced the operation of the Fulfillment page in for 3rd-party fulfillers:

Ship-to-home orders now have a "Mark Shipped to Customer" button
Ship-to-store orders now have a "Mark Shipped to Store" button and the carrier fields are accessible for entering a tracking number

Fixed timeout issues when trying to export on the Reports page
Importing a shared product catalog will now correctly copy category descriptions
Fixed Wholesale pricing fields display on the Product Details page
Fixed a graphical glitch when clicking on the "Edit products & Settings" button
UploadToKiosk.com
Increased the allowed upload size per file by 50%