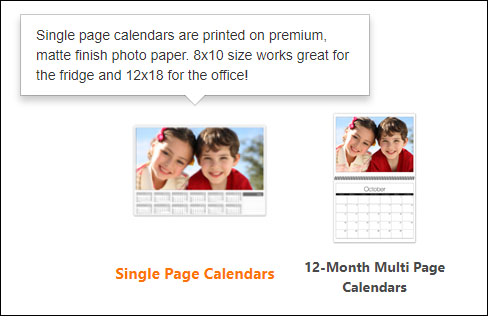 It's now possible to set descriptions for creative categories, using the Product Catalog page in myLab.  These descriptions are shown when a customer hovers over a category thumbnail in the shopping pages.
Fixed bug that prevented the product name and icon from being reset if the user started a creative project and then went back and switched to a different product.
Addressed a bug that would prevent the items on the Cart page from being displayed until the user scrolled or resized the page.
Resolved a layout issue on the Cart page that would add excessive padding between items when an item had a discount attached to it.
Fixed errors in PayPal checkout workflow, which had been broken in 12.7.1.
Fixed an error when trying to access PicMonkey to edit a photo.
Updated the pricing engine to include an order's Service Fees and Rush Order Fees in the taxable subtotal, independent of the option to charge tax on Shipping Fees.
Fixed a bug which caused the photos in the viewer to be squished or stretched if the user resized their browser window.
Resolved a bug which prevented the Promotions page from loading on some sites due to invalid discount data in the database.
Added analytics monitoring of when a client's requests to our API server fail all 5 retries and gives up.
Added backwards-compatibility support for legacy shopping URLs with /mobile in them.
Fixed an issue proceeding to the second step in a custom-cover book project when certain quantity tier discounts were set.
Resolved a timing issue with a Javascript library that caused graphic glitches with the product blocks on some Umbraco homepages.
Shipping information is now auto-filled again for logged-in members.
The "Use My Location" button (map pin icon) is now hidden from the Store Finder search box when using PF@Kiosk since it was not reliable.
New collection of icons for the Creative Occasions (Birthday, Father's Day, Kids, etc.) on the site. Thank you Foto Source HQ for the creative work on this piece.  Check them out by navigating to the /create page on your site and then tap on "Browse By Occasions".
New responsive version of the homepage for PF Standard sites.
New distributed caching layer for Umbraco custom content.  Changes made in Umbraco will now be available across the production webserver fleet in 1/3 the previously-required time, dropping from 30 minutes down to under 10 minutes.
Navigation to and between Umbraco custom content pages now happens within the site's single-page application (SPA) framework, resulting in a fantastically quick and smooth experience without the traditional interruption between web pages.  This requires HTML updates in Umbraco to remove the "target" attribute from all link tags.  Dealers with managed Umbraco sites will have their content updated over the coming weeks.  The experience can be previewed at demo.photofinale.com.
When navigating from a custom Umbraco page to a platform page, if the user hits the browser Back button, the previous page content is now properly loaded.
The quantity pricing table shown on the Add to Cart dialog in the Creative workflow now incorporates any extra fees for additional pages.
Credit card refunds in myLab now process fully and no longer display an error on the page.
Fixed a bug in the sitemap.xml generation which could include entries for non-customer-accessible pages on Umbraco sites that contain content in multiple languages.
Fixed a recently-introduced problem that could hide the characters while editing text in a creative project on a mobile device.