This post covers APM 9.0, 9.0.1, 9.0.2 and 9.0.3 releases. An exciting line of releases, the 9.x series modernizes the kiosk–the software has been adjusted for modern wide-screen hardware, accepts mobile phone connection, adds fonts, bleeds and a cloud-connected option for ordering.
APM 9.0.1: Key Features (August 14, 2014):
Large Screen Support. The APM kiosk now includes intelligent scaling technology to take advantage of high-resolution displays. On an HD 1080p screen this translates into the kiosk displaying up to 88% more photo thumbnails on-screen at a time than previous kiosk releases.

We recommend that prior to upgrading to v9.0, all customers with large-screen kiosks reset their display settings to the monitor's native resolution to take full advantage of this new functionality.

Up to 2.5x Faster. APM 9.0's revamped imaging engine squeezes maximum performance out of processors old and new, to achieve up to 2.5x faster image load times. Rendering for folio products also blazes, shaving up to 40% off the order processing time of previous releases.
Image CD & DVD Workflow. Archiving photos to disc remains one of the most popular kiosk offerings for consumers, and APM v9.0 includes a brand new workflow to optimize the experience. Image CDs and DVDs will now show up as a top-level product group and can even be set as a featured product.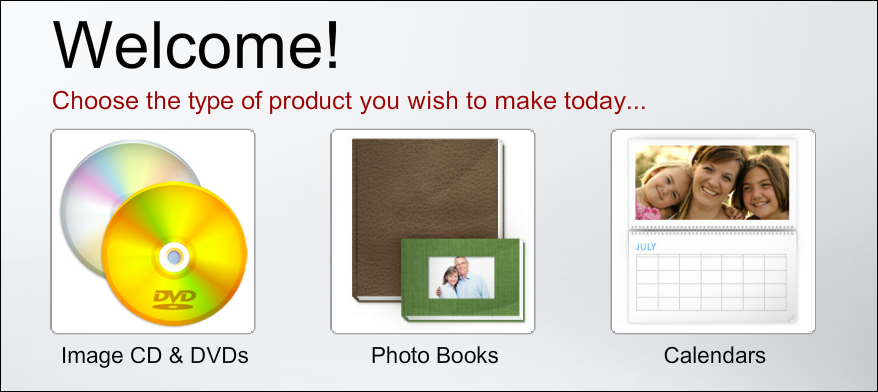 Once a customer selects an archive product, they can now choose exactly which photos they wish to have included on their disc.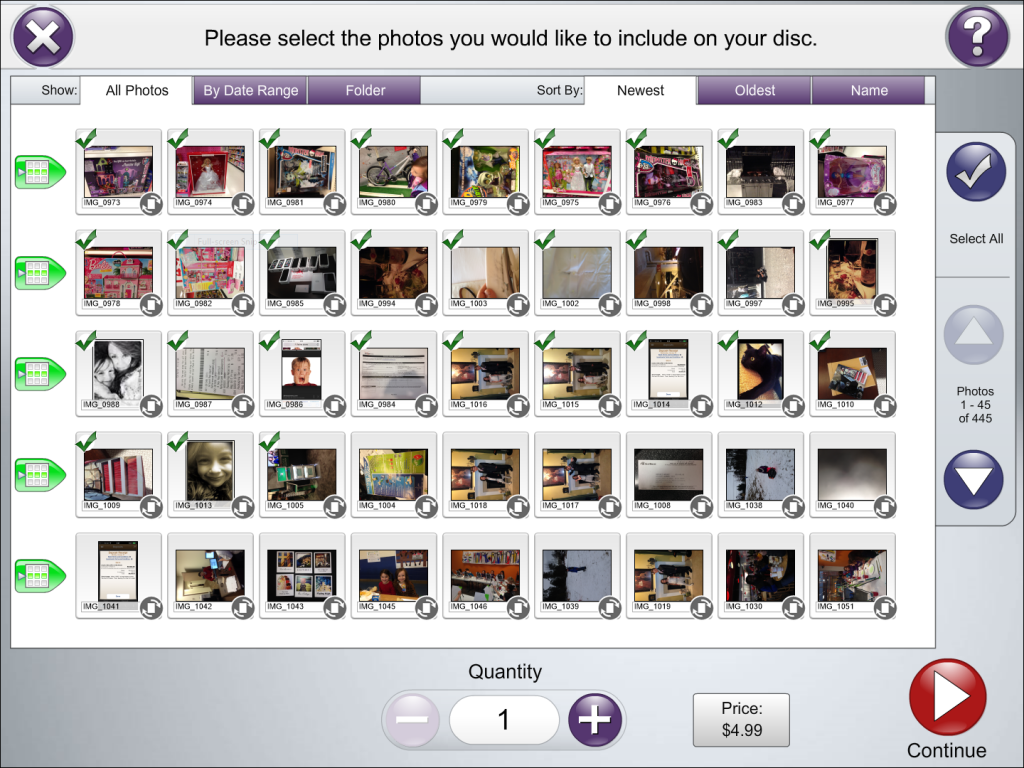 Mobile Connect WiFi Device for iOS & Android. The Mobile Connect WiFi device is a small, new hardware unit available for purchase from Lucidiom to enable wireless transmission of photos from customers' smartphones and tablets to the kiosk. Configuration is simple – just connect the device to your LAN via an Ethernet cable and configure from any browser via a built-in web administration portal. The Mobile Connect device creates a separate, dedicated WiFi network for photo transmission to the kiosks. Customers join the WiFi network and then transmit their photos wirelessly. On iOS devices, customers use the built-in AirPrint functionality, so the Mobile Connect device is compatible with any iOS imaging app that offers printing, including the built-in Photos app. For Android devices, customers download a standalone app from the Google Play app store. A single Mobile Connect WiFi device handles connectivity for up to three APM kiosks in a store location out of the box, and licenses can be purchased to support two more – for a total of five.
Contact your sales representative for more information.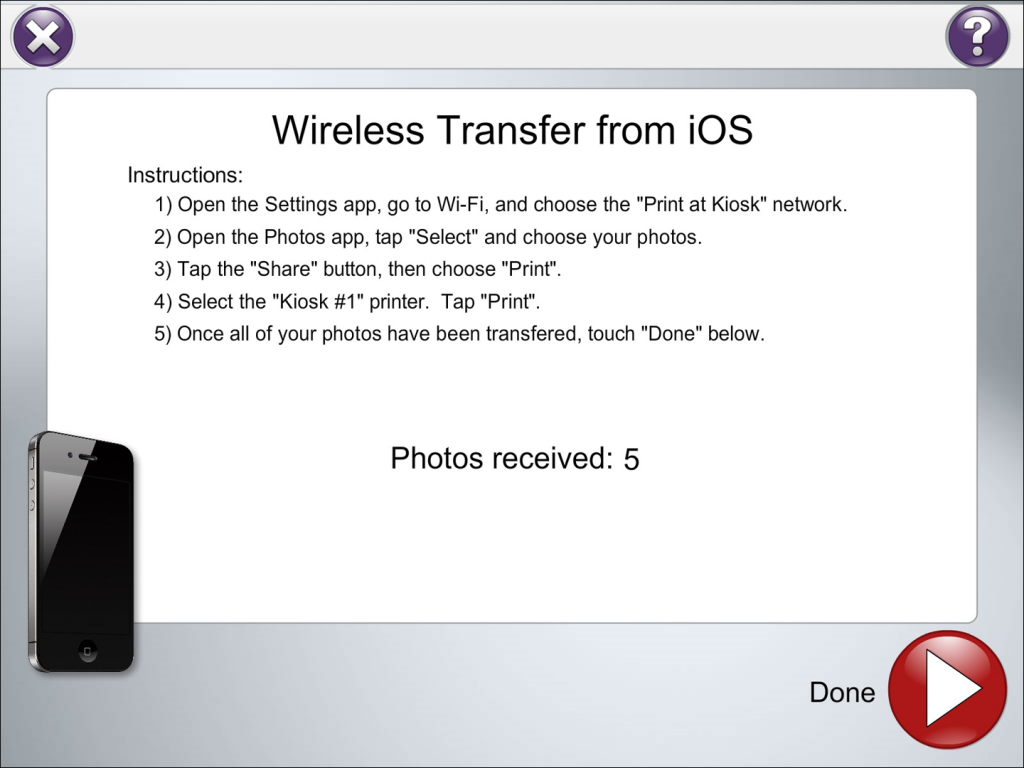 Revamped iOS Connect – now "iOS & Android Connect". Reworked from the ground up, this component now supports loading photos via cabled connection on both iOS (iPhone, iPad & iPod Touch) and Android (phone & tablet) devices. Support includes iOS 5.0 and higher and Android 4.4 or higher (older versions may work). In addition to the new Android support, this release includes improved device detection. Customers with a large library of photos are also given the opportunity to load only their most recent photos to significantly shorten load times.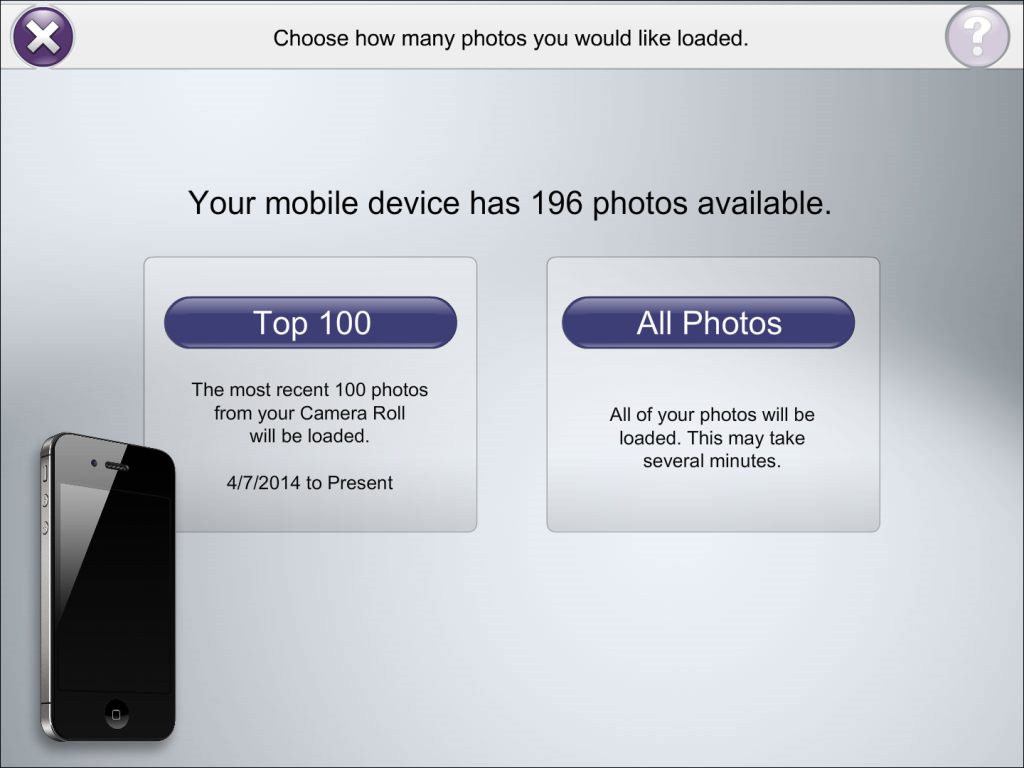 Finally, detailed image loading progress is shown so the customer knows exactly what to expect.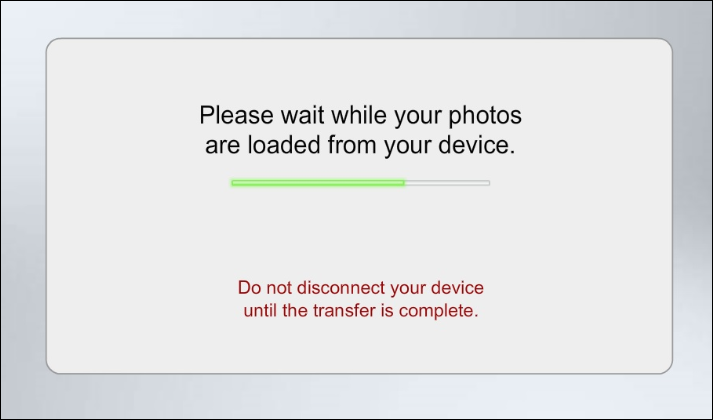 Folio Page Margins & Bleed. The Folio Page Margins feature gives you ultimate control over the rendering of the thousands of available folio products Lucidiom and 3rd parties provide, to best take advantage of your printing capabilities and paper stocks. Take any existing folio product and define a new output canvas size for it to be produced on – resizing the content up or down as needed to fit or adding a gutter around the content. Folio Page Margins are easily configurable via the Setup Wizard.
RAW Image Support. Support for the latest RAW image formats from Adobe, Canon, Nikon, Sony, Olympus, Pentax, Kodak, Konica Minolta, Leica, Panasonic, Samsung and more – over 250 models in total.
(Kiosk must be running Windows Vista or above.)
New Folio Fonts. The batch of twelve new Folio fonts which debuted online last holiday season, several of which have quickly become customer favorites, are now available on the kiosk for creative projects and adding text to photos. The entire list of available fonts has also been reordered to group fonts by typeface style, making them easier to browse.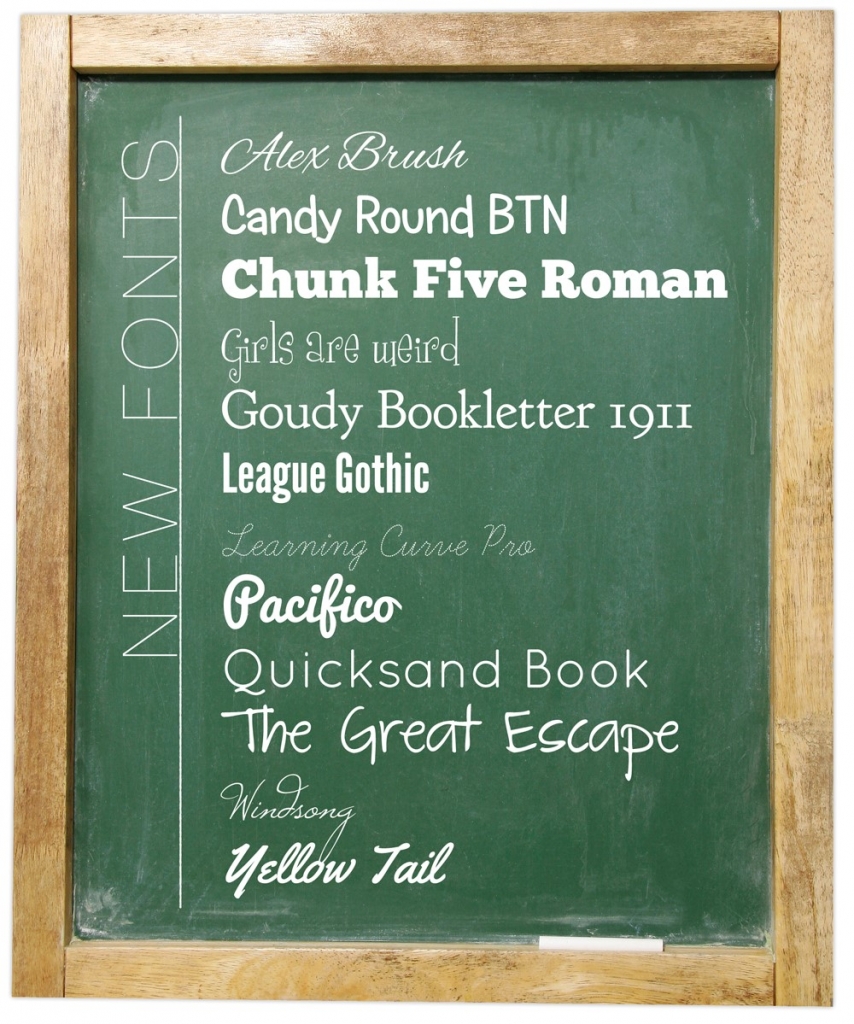 Features & Tweaks:
Pinch & zoom is now inhibited on Windows 8 touchscreen devices to prevent accidental page zooming by customers.
The kiosk's imaging engine now supports several additional color formats, including CMYK JPEGs.
The APM now allows up to 100 active print products per fulfillment.
Eighteen additional font sizes and six new font colors are now available for customers to use in creative projects and while adding text to photos.
Redesigned the PF@Kiosk screen with side-by-side columns for better readability.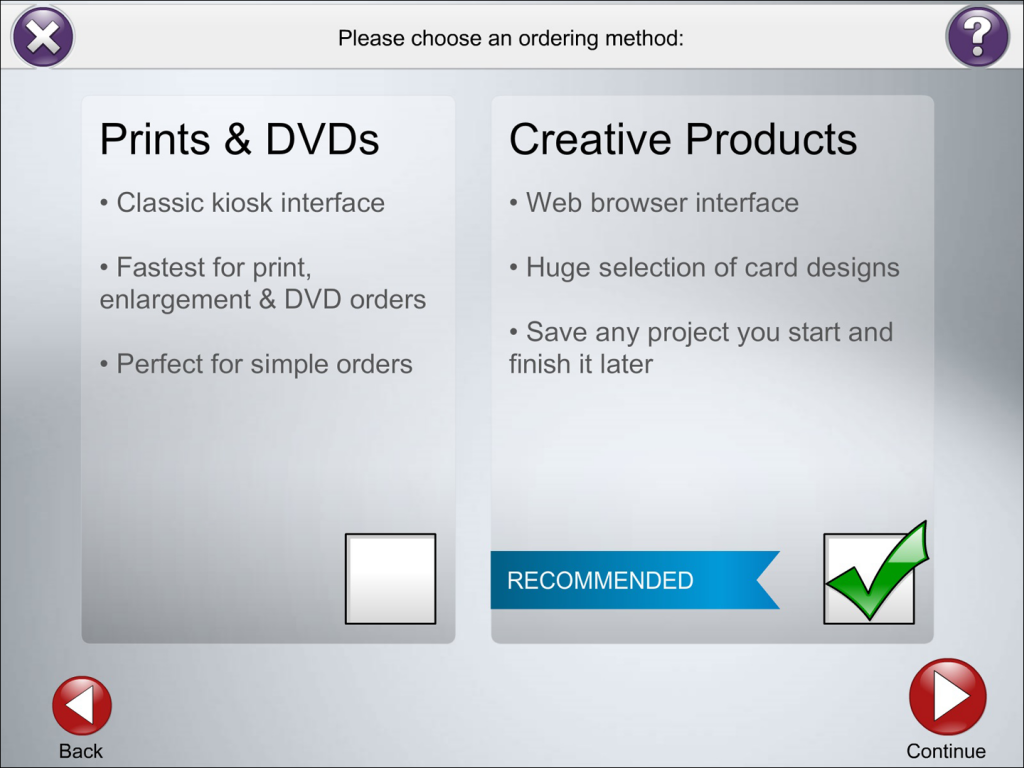 At startup, during the content loading phase, the kiosk will dynamically create new on-screen image files, for all available folio content, that's optimized for the kiosk's current monitor resolution. The first time you run the kiosk in Large Screen Mode after upgrading to v9.0, or switch to a new monitor resolution, the startup process may take upwards of 30 minutes to complete this image generation process depending upon what content sets you have installed and your kiosk's processing power.
The Card Catalog product, once exclusive to EQ-9800 printers, is now available for fulfillment from any printer interface. A Card Catalog is an automated proof book consisting of a grid of photo thumbnails with optional filename and capture date captions.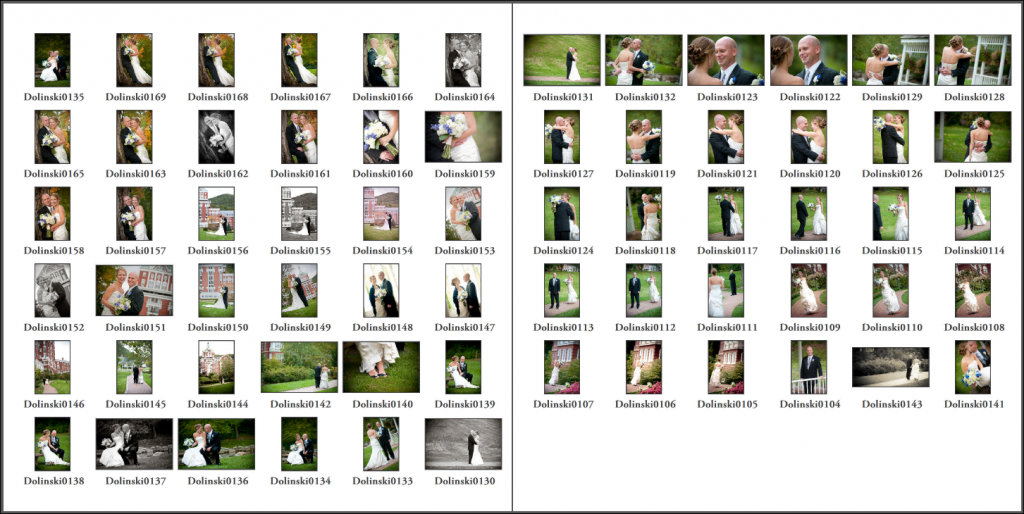 The marketing sidebar banner(s), displayed on one or both sides of the kiosk on widescreen monitors, can now display online content directly. Point to an image hosted online and you can easily change the graphics across your entire kiosk fleet on a routine basis without having to touch each individual kiosk. Point the URL to an HTML page and you can offer the full interactivity that HTML provides – creating a rotating advertising banner, a help page or FAQ, a product catalog – the possibilities are endless.
These settings are configured in the Setup Wizard under Kiosk Settings > Monitor Settings.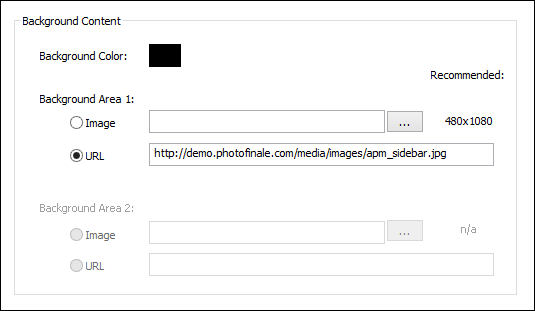 When PF@Kiosk is configured to use the Sign-In landing page online, it will now take customers directly to the "Create" page on the site once they've completed sign-in.
The check at the end of the creative workflow before an item is added to the cart now only alerts users for unfilled photo spots. Unfilled text spots are commonly desired, so they've been removed from the warning.
Support logging can now be enabled/disabled via the Setup Wizard. This option is available on the main "Information" screen of the Setup Wizard and should be enabled if requested by a Lucidiom support rep.
Added new "wall art", "greeting cards" and "web upload" scenes to the intro movie attract loop that are displayed if the kiosk is offering those products.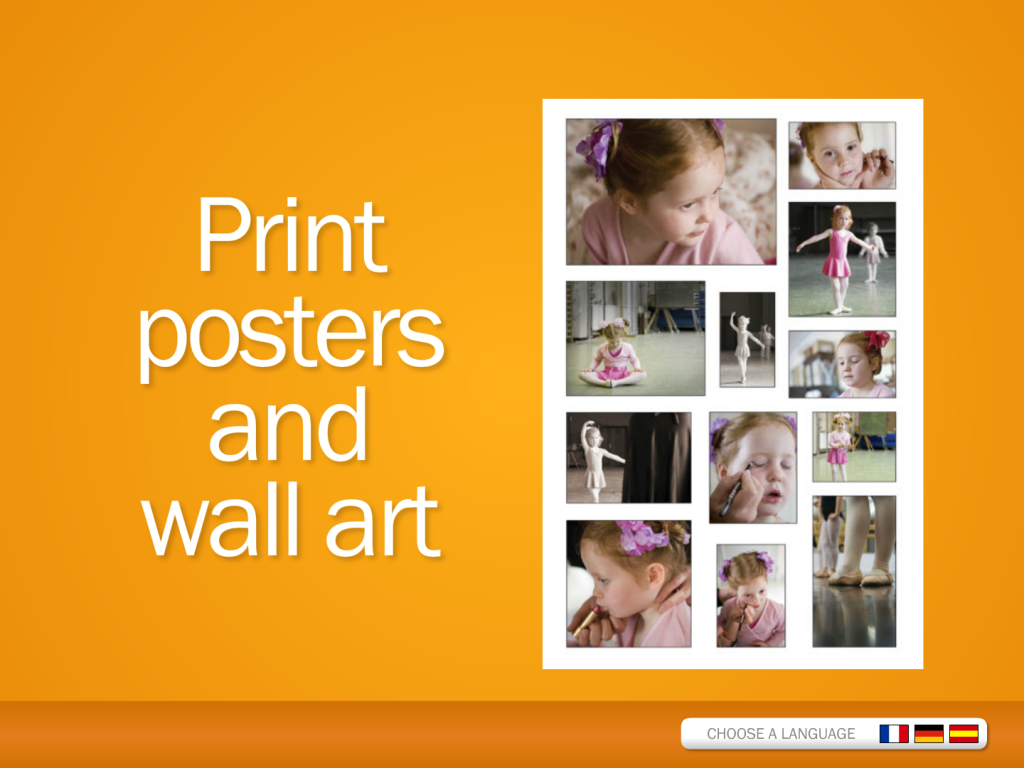 The kiosk now automatically detects proxy server failures when communicating with Facebook and re-attempts using a direct connection.
Improved speed and reliability of the RemoteLogger support utility.
The installer allows for a "manual font install" option for use on systems that lock up during the font installation phase.
Limited the number of print sizes shown on the Cropping screen to prevent the buttons from resizing text too small to read.
Fixes:
Fixes red tinting of certain B&W photos in which all data is contained within a single color plane.
Fixes order processing hiccups with photos that contain corrupt GPS values embedded in their EXIF metadata.
Fixes product tabs showing "…" when only one print size had been ordered.
Improvements to prevent customers getting stuck at the on-screen keyboard popup of the creative product builder.
Fixed font sizing problem on the Add Text to Photo screen, allowing for much larger font sizes.
Intro movie slides which are synched from an online source can now be hosted on servers that require HTTPS access.
APM 9.0.1: Features, Tweaks & Fixes (September 17, 2014)
Fixed image distortion that would occur could occur for a small percentage of customer photos on kiosks running Windows XP.  Unfortunately Windows XP kiosks will no longer get the 2.5x performance benefit of the revamped imaging engine released in 9.0.  The issue was tracked deep into a Microsoft library and given that Microsoft has ceased all support on XP, our only option for these kiosks was to fall back to our previous imaging engine.
New configuration option for retailers utilizing PF@Kiosk to choose which of the two workflows should be marked as "recommended" to customers.  This can be configured in Setup Wizard > Kiosk Settings > Product Selection Settings.
Image CD / DVD disc archiving now takes non-photo backup items (e.g. movie files) into account when calculating the number of discs required.
Added buttons to the new Folio Page Margins configuration dialog in the Setup Wizard to sort the products list by Product ID and by Product Name.  Our apologies to anyone who had to find a product from the original, unsorted list!
The "Facebook / Online Download" screen is now displayed properly on kiosks running Windows XP.
Further improvements to the tab labels in the Independent Crop Mode UI.  We now ensure that the standard print sizes (4×6, 5×7 and 8×10) are always listed on the tabs and listed first on their respective tab.  The number of print sizes shown per aspect ratio tab has also been increased from 2 to 4.
Added the ability to configure a default fulfillment to be used for the Disc Archive workflow.  This can be configured in Setup Wizard > Kiosk Settings > Image CD/DVD Settings.
Improvements to the Add Text screen to prevent loss of keyboard input when a physical keyboard is being used.
Fixes to the Add Text screen to ensure the text movement buttons (arrows) do not get out of sync with the current position of the text.
Fixed problem with missing user-interface text when operating the kiosk in certain foreign languages, e.g. Danish.
Resolved a problem that caused abnormally-long initial launch times for the PrintServer (15+ minutes) when it was configured to use package-print templating for some products.
Fixed overlapping voice prompts heard on the Card Catalog screen when the "Title Page" option is disabled in Setup Wizard.
Removed lots of superfluous folio content logging from startup (thousands of entries per session).
APM 9.0.2: Features, Tweaks & Fixes (October 29, 2014)
Updated French translations for new strings introduced in v9.0.
Improvements to iOS & Android Connect device detection, particularly on Windows 8.1 kiosks.  (Note: Windows 8.0 is not supported for iOS & Android Connect.)
Fixed on-screen rendering of certain folio products (e.g. canvases) in which the overlay was not being shown.
Added an indicator to the Image CD/DVD workflow screen showing how many discs will be required per set.
Improvements to the memory management in the folio product builder workflow.
Fixed initial disc archive pricing display on Order Options screen.
Fixed progress bar display when loading "top 100" photos from a mobile device.
Fixed locking of text on a photo when horizontal movements is still allowed.
Fixed occasional sizing problems of text on a photo after setting text via the on-screen keyboard.
Fixed potential kiosk crash in the folio rendering code.
Fixed potential kiosk crash when burning an Image CD or DVD at the kiosk that spans multiple discs or has a quantity of more than one.
Fixed potential kiosk crash when there's an error saving an XML file.
Fixed potential kiosk crash when downloading pricing/promotion data from Lab 50.
Fixed potential kiosk crash that could occur on the splash screen during startup.
Fixed potential kiosk crash that could occur with mobile devices when the parent object is no longer in memory.
Fixed potential PrintServer crash when using the Generic Hotfolder driver with rendering enabled.
APM 9.0.3: What's new, tweaks & fixed (November 21, 2014)
New "Default to Matte" feature allows operators to choose matte as their default surface.  Available to configure in the Setup Wizard > Fulfillment > Order Settings.
Fixed an issue which prevented layouts from being drawn in certain folio content (e.g. IPI calendars) on kiosks running on Windows XP.
Fixed an error that would cause the kiosk to error out if the customer entered a comma or apostrophe while entering text on a photo.
Fixed a problem with folio content that contains masked photo-spot layouts.
Fixed a problem with PF@Kiosk transitioning back to kiosk mode if the user attaches a portable device (e.g. iPhone).
Fixed a null pointer exception during folio rendering.
Fixed the display of the starting year in the photo filtering dialog.
Fixed the currency code for Aruba.