Download this APM software update from myLab.
Fixed the operation of the kiosk's Order Recovery process, which had been inadvertently broken in 10.0.
The Archive Options (Image CD, Image DVD, Image USB) are now hidden on the Order Options page if the particular option product has been removed from the current fulfillment. For example, this allows the Image USB product to be hidden when a customer is using an Express fulfillment that is being printed locally rather than through Print 50 / Lab 50.
The file extensions for Apple HEIC files are now properly set to ".jpg" after being transcoded by the kiosk before being uploaded to PF@Kiosk, preventing orders from being mistakenly cancelled down the pipeline for containing HEIC photos.
Extended the timeout triggers and improved the handling logic on the Upload To Kiosk screens, which were timing out too quickly for some customers as they spent time on their mobile devices selecting their desired photos.
A new configuration option has been added to the Setup Wizard, under Kiosk Settings > User Interface Settings, to control the maximum number of parallel processing tasks employed by the multi-threaded imaging engine launched in APM v10. Any kiosk hardware experiencing unstable behavior should have this value lowered as a troubleshooting step.
When warning a customer that some of their image files were ignored due to being excessively large, the warning message now shows the actual maximum filesize for JPEGs on disk. Previously the uncompressed/decoded in-memory maximum was shown, which is not particularly useful for consumers.
Fixed a potential crash while rendering creative projects due to an infinite loop condition in the text layout engine.
Up to 2x Faster. APM 10's new multi-core imaging engine squeezes maximum performance out of modern processors, to achieve up to 200% faster image load times.

Support for Apple's New HEIF Format
Integrated HEIF Support.  HEIF (High Efficiency Image File Format) is Apple's new default image format, introduced in the recently-released iOS 11.  APM v10 includes out-of-the-box support for HEIF files, automatically transcoding them to JPEGs when a customer physically connects their iOS device to the kiosk or wirelessly transmits a HEIF file to the kiosk. For more details on how HEIF is handled on each of the Photo Finale platform products, read this page: https://wiki.photofinale.com/x/DQCLBg
Small, Medium and Large Thumbnail Sizes
Thumbnail Sizing.  One of our most-requested features!  All thumbnail displays in the kiosk now offer three separate thumbnail sizes that customers can switch between on the fly.  The new default size ("medium") is 2.4x more pixel data than the original standard size, and a "large" size offer 4x more pixels.  The larger sizes make it much easier to distinguish between multiple similar shots.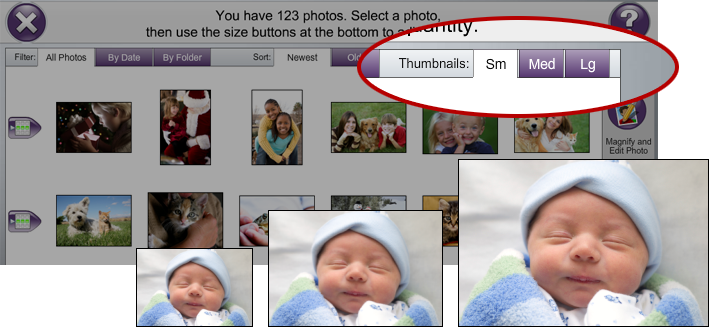 New Phone-to-Kiosk Transfer Method
Universal Mobile Uploader.  This brand-new connectivity option is the simplest way for customers to get photos from any mobile device onto the kiosk to order prints and creative products.  You do not need a special license, cable or app (although customers can access the feature from within your iOS ordering app v4.1) – all that's required is a web browser.  Customers visit uploadtokiosk.com and follow the instructions to select and upload their photos and receive an access code which they can then use at a kiosk to claim and download the photos.  Customers can even upload from their mobile device, laptop or computer at home before coming to your store; access codes are valid for six hours after upload.
Setup instructions and a demo are available here: https://wiki.photofinale.com/x/BICPBg