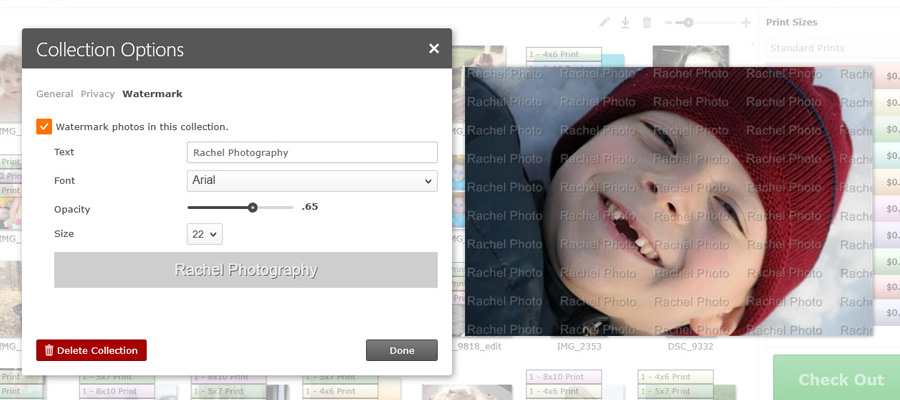 Perfect for wedding, event and portrait photographers
Watermarks and passwords can help protect your professional work from unauthorized access and downloads. These options are controlled by the account holder.  The account holder can also set the size, text and style of the watermark. The marks show on screen and prevent high-res downloads but do not print.  This makes the site ideal to use as a proofing site for event and professional photographers, with easy fulfillment at the host retailer.  Sharing tools allow photographers to send out direct links to protected albums, or prepare ahead of time with a static account link and password.
Photo retailers, if you offer printing services to your pros, you can offer them their own custom Photo Finale website for a low, one-time fee.  The photographer can have his or her own logo and branding on the site, set the prices, and the orders come to you for printing.  Or, use the same kind of subaccount site for your own studio or portrait work…the site can have a different product mix and different pricing for your professional shots.
Try it out!
Try our our demo subaccount setup
This button will open a wordpress.com site… which is a simple, freebie blogging-platform.  We are just using it for demonstration, but you can use any other type of site you wish (a page on your main site, a hosted WordPress site, Wix, etc.).
The important part is that the photo shoot as presented on this site links to the album on the Photo Finale subaccount site. The albums on the Photo Finale subaccount site are watermarked and password-protected.  The password is set to be the first word of the album in all lower-case.
This subaccount site would be what is branded for your studio or photographer or special group and orders placed on it would feed right into your Lab 50 for production. All the same elements you can set on your normal PF site, you can set on the subaccount site (logo, emails, payment, products, pricing, pickup locations, etc.)
Try it out!